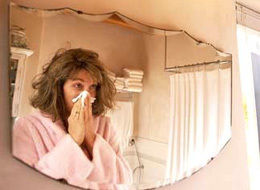 A 2005 article in the London Evening Standard about overwhelmed working women advised them "not to struggle into work when ill but to stay at home and rest." Likewise, the November 2009 issue of Working Women magazine cautioned readers against "dragging [their] fever-ridden [bodies] into the office."
Under ordinary circumstances, this would be simply a matter of common sense, but the economic slowdown we are experiencing has eroded our sense of work security and had the effect of making people fearful that their absence from work, even for a day or two, could have disastrous consequences. In a new context, this simple advice deserves a closer look.
In Crazy Busy, author and physician Edward Hallowell talks about having to go to work regardless of your physical condition as if it were something that belongs to the past, like the experience of the lower classes as described in Dickens's novels. But is it?
Knowing there's a growing pool of qualified candidates that could replace you naturally produces anxiety, but making decisions, even simple ones like calling in sick, based on the fear that you could be axed is not a career strategy but an act of quiet desperation which could turn into a self-fulfilling prophecy.
He writes, "Imagine women all over England, feverish, aching, mentally impaired, dragging themselves in to work for fear of losing their jobs or just because they feel an obligation to do so," and the image is alarmingly contemporary.
As the Working Women article points out, you have a 74% higher risk of future sickness if you don't stay home, yet many of us in professional positions routinely go into the office when we are ill.
According to social scientists who study employment stratification, 30 million minimum wage workers live closer to some of the stark realities described in a novel like Dickens' Hard Times than we think.
In The Betrayal of Work, a sobering look at the underbelly of the US service economy, Beth Schulman tells the story of workers—janitors, home health care aides, hotel maids, poultry plant employees—who put themselves at risk by missing a day's work. They have virtually no bargaining power, nor any means of communicating their worth to their employers, and without the possibility of having a conversation around a request for special consideration, even one that concerns a legitimate need, asking for time off may indeed backfire.
But for people who have much more power over their work situation, acting as if they are expendable can still be dangerous. What if going in to work sick sends the message that they are afraid they are not of value? What if it says that they feel their contribution is not important enough that the organization would be willing to allow them be out for a day or two?
FRAMING OUR WORTH
High unemployment erodes the confidence of people who are working just as it does those who are looking for work. Knowing there's a growing pool of qualified candidates that could replace you naturally produces anxiety, but making decisions, even simple ones like calling in sick, based on the fear that you could be axed is not a career strategy but an act of quiet desperation which could turn into a self-fulfilling prophecy.
Whether it's calling in sick, being available beyond office hours, or taking on extra responsibility because of cutbacks in staff, how you frame statements about what you can and cannot do can make a world of difference in how you are perceived by those around you. Instead of being a martyr or victim, you can use your circumstances to position yourself as important, productive, conscientious, etc. Let me illustrate alternative responses for these three circumstances:
Calling in sick. After agonizing all weekend about whether you should go into work, you call your manager in Monday morning and say:
Fearful voice: "I'm so sorry, I've been sick all weekend with fever and chills, and I really thought I could come in today because I know we have to get that proposal out, but I'm so sick, and I almost never take a sick day, and I wouldn't today if I didn't feel so bad, but etc."
Confident voice: "That bug that's been going around the office caught up with me over the weekend and I think it best I stay home. We're in good shape with the proposal that's due this week. I'll check in with my team later to make sure we're on track."
After-hours availability. Because of some real or imagined crisis at work you are told you need to be on-call during vacation time.
Fearful voice: "Well, if you really need me, but I was promised this time off, and my wife is really going to be upset with me because she counted on my help with the new baby, but somehow I'll try to be available as much as possible."
Confident voice: "I can see that, since I have a strong relationship with them, my presence at the meeting with the vendor is important. With some jiggling, I could rearrange things so I could be there, as long as I have 24 hours notice. I've also set up a plan for regularly checking in with my team."
Taking on extra responsibility. With each new round of layoffs, more has been added to your job description. You feel totally maxed out, and now your boss has asked you to take on more.
Fearful voice: "I'll try to get to it," spoken with a sigh, while what you are saying to yourself is, "How can I possibly do more, I'm already overextended and in over my head? I'm not good at what he's asking me to do and have no time to learn it, but if I push back I might be pushed out."
Confident voice: "Let's review what's been added to my plate since we've cut staff: I've gotten up to speed with the additional projects I've been given, restructured the bidding process, and selected a vendor to implement our website enhancement. My concern with taking on this right now is that it could disrupt the timetable for our online marketing push."
Although it may seem like the employer has all the power and that you have no choice but to abandon your own needs and submissively (and often resentfully) agree to whatever is asked of you, holding on to your image of yourself as a talented and skilled professional is more critical now than ever. When you don't have control over revenue streams, budgets, executive decision- making, or the other variables that sustain your employment, it is absolutely essential that you maintain control of own dignity and sense of self-worth.
POSTSCRIPT TO THE SELF-EMPLOYED
This applies to you as well. I learned this lesson years ago when I had an office separate from my home. I had been sick all weekend and was about to force myself to get dressed and go in to work when I suddenly realized, I could call in sick! So I called my own answering machine and left a message. When I returned a few days later, hearing my own voice say that I was too sick to come to work had a profound effect on me. It separated Beverly the business owner from Beverly the person who worked in the business. What you tell yourself is just as important, and perhaps even more important, than what you tell your boss. After all if you don't value yourself, who will?